As I mentioned in my earlier post today, I managed to go to the Pro Store in Toronto during my short stay in the city. I was only gonna buy one item but saw some other pretty things and couldn't help it! Also, I bought a full size jar of Smoke Signal pigment off of someone on the internet and I received it today. I've been looking for this LE pigment forever and I got it at an excellent price so obviousely I'm excited.

Here's a picture of my Pro haul plus my beloved Smoke Signal: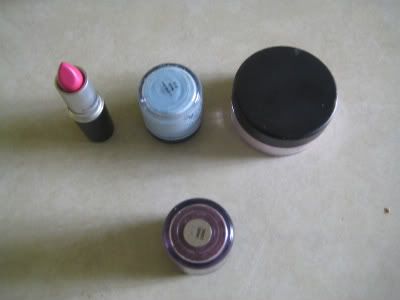 Top row: Show Orchid l/s, Clear Sky Blue p/m, Micro-Pink Loose bp
Bottom Row: Smoke Signal p/m

I got Show Orchid coz I love bright pink lipsticks. I already have plenty but I had wanted this one forever so I finally gave in. Here's a comparison swatch in case you're interested. Show Orchid is the most blue based pink lipstick I have and is very flattering on.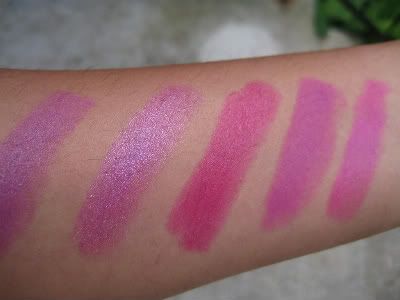 From left to right: Up the Amp (Perm), Pomposity (LE - C-Shock), Girl About Town (Perm), Gladiola (LE - Dame Edna) and Show Orchid (Pro)

Clear Sky Blue is a gorgeous matte pigment. It goes on smooth and is super pigmented. I looked for a dupe of this colour all over the place and couldn't find one. I ended up getting a full jar as this colour is being DC'd from MAC Pro. If you love blues, this is a must have. I tried the Pro eyeshadow colour Sky Blue but that one was quite chalky; Clear Sky Blue is love.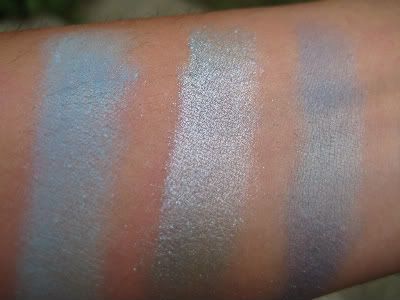 From left to right: Clear Sky Blue p/m (Pro), Mutiny p/m (LE - Naughty Nautical), Tilt e/s (Perm)

My last pro purchase was a loose beauty powder. I've got two loose beauty powders from the Of Beauty Release in 2007 and their texture is amazing. I much prefer the loose beauty powders over the MSF. To be honest I never understood the hype surrounding MSF's. Here's a comparison of my new bp, Micro-Pink and my other pink highlighting products: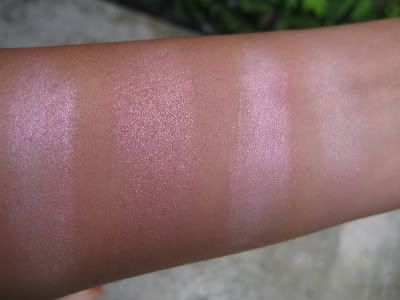 From left to right: Pink Opal p/m (Perm), Petticoat MSF, Micro-Pink Loose bp (Pro) and Pearl Blossom (LE - Barbie Loves MAC)

Last but not least, my beloved Smoke Signal. While I was looking for similar colours for my swatch, I realized that I actually have a few burgundy type shades in my collection. Their all beautful in their own unique way. I can imagine they'll all look gorgeous over Artifact paint pot. But I love Smoke Signal coz it's matte.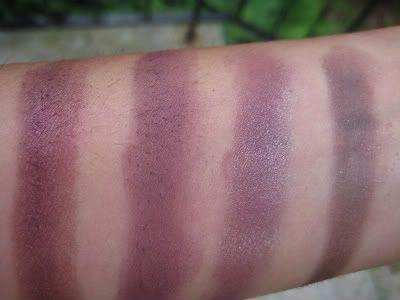 From left to right: Heritage Rouge (Pro), Smoke Singal (LE - Smoke Signal), MUFE #39, Too Faced Dirt Bag

Hope this helps someone. I need to lay off makeup buying for a while, lol!