I didn't get a chance to do any blogging yesterday. I was cleaning up after Saturday night's party and that took a while. Especially cleaning the fondue set :/ The hubby and I went to my parents at around 3. He took off on a business trip soon after that. My sister and I spent the remaining of the day shopping, swimming in my parents pool and sunbathing. I got a much deeper tan now, hehe.

So Sunday was fun. On the downside, since I slept over at my parents and my sleep location was different, I only got 2 hours of sleep last night. It's been an incredibly hard day at work because of that. I'm gonna try to be good and still go to the gym after work but we'll see.

Here's part 3 of the makeup stash. This is going to be all lip products plus mix products. I was in a hurry at the end of the picture taking process and missed some photos :/ Let me know if you have any questions.

Lipsticks - first set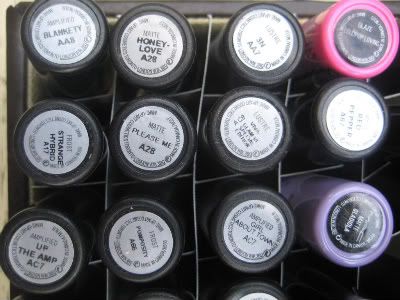 First row: Blankety, Honeylove, 3N, Lollipop Lovin
Second row: Strange Hybrid, Please Me, Viva Glam VI SE, Red Pepper
Third row: Up the Amp, Pomposity, Girl About Town, Gladiola

Lipsticks - second set


First row: Ruby Woo, So Scarlet, Port Red, Swelter s/s, Powersuite Mattene
Second row: Snob, All's Fair, Big Bow, St-Germaine, Creme Cup
Third row: High Top, Vegas Volt, Craving, Chatterbox, Kirsch Matten
Not pictured: Show Orchid, Marquise D'

Lipsticks - third set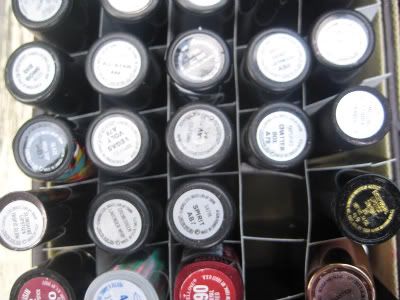 Last row: Long Stem Roses s/s, Lavender Whip, Spirit
Not pictured: Tropic Glow, YSL No.1 plus two Dior lipcticks

Dazzleglasses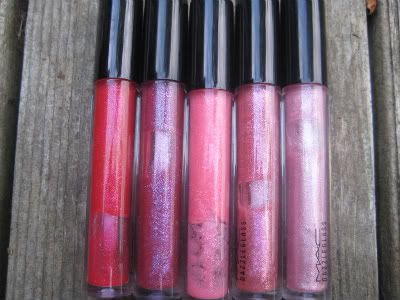 Left to right: Love Alert, Date Night, Seppin Out, Honey, Money, Rags to Riches

MAC lipsglasses/lustre glasses - I don't have a lot of these, not really a gloss person.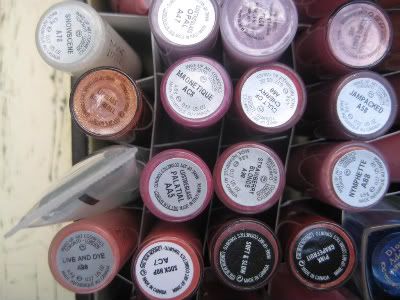 Top row: Snowscene, Opal, VS lavender gloss, She Loves Candy
Second row: Gold Rebel, Magnetique, Cult of Cherry, Jampacked
Third row: Clear gloss, Palatial, Strawberry Blonde, Nymphette
Last row: Live n Dye, Sock Hop, Soft and Slow, Pink Grapefruit

Mix gloss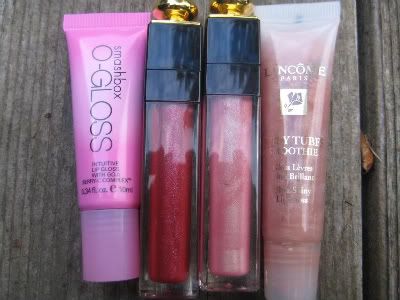 Left to right: Smashbox O Gloss, two Dior glosses, Lancome Hallucination

Brushes - these are a combination of MAC and Quo brushes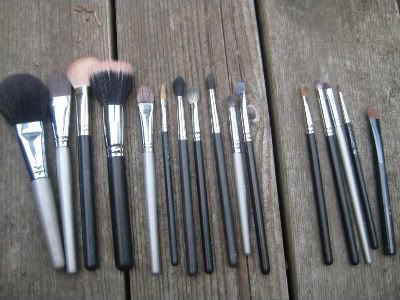 Left to right: Quo Powder brush (I use this for blush), Quo foundation brush, MAC 168, MAC 187, Quo creme shadow brush, MAC 194, MAC 224, MAC 217, MAC 226, Quo small blending brush, MAC 239, MAC 242, MAC 219, Quo eyeliner brush, MAC 209, random big eyeshadow brush I use to apply my eyebrow highlight

Mix stuff that didn't fit anywhere else: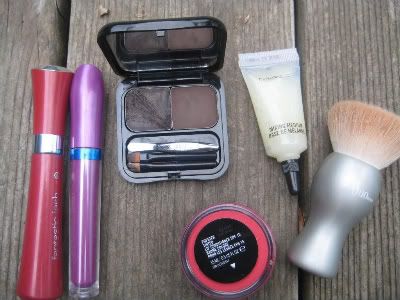 My mascaras (CG volume exact and lash exact), Benefit Browsing in Dark, eyeliner mixing medium, Quo kabuki brush and Posper TLC.

Wow, this took a while again!