I got to see the newest MAC collection, Love That Look, this evening as all the coounters around here have released the collection one week earlier than expected. Overall, this is a great collection if you love eyeshadows and the Starflash finish. Many of the colours were repromotes from last year. I have 5 eyeshadfows from last year's Starflash release so I only swatched the news ones. I also had decided against the pearlglides so I went straight for the eyeshadows.

I would say the new starflash eyeshadows seemed a little smoother than last year to me. I'm happy that MAC did some nice greens this time around. Here's are some swatches on NW30 arm with no base. The actual colours were brighter though, these swatches seem pale coz of the overcast sky.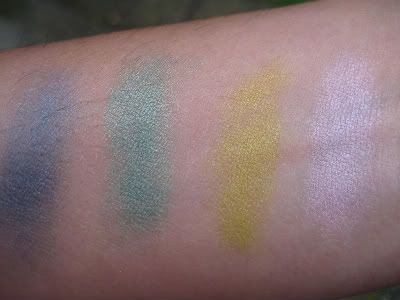 Left to right: Strike A Pose, One-Off, Rated R, Ego



Left to right: Fashion Groupie, Unbasic White, Fashion, Style Snob

Here's a picture of my haul. Of course I got the two greens coz I got nothing similar in my stash. I also got the baby pink colour coz my pink collection is small and needs expanding.



Rated R, One-Off and Ego

I did some comparison swatches as well. Like I said, these are not dupes. I'm quite happy with my purchases.



Left to right: Rated R, Chartreuse pigment, Biogreen (PRO)



Left to right: Emerald Green (PRO), Spiritualize (LE), One-Off



Left to right: NYX Baby Blue, Ego, Sunset B. (LE)

Hope these swatches help someone!