I received my OCC package yesterday and I'm super excited. I had heard so many good things about this brand through various Youtube beauty gurus and really wanted to try out their products. Just by coincidence, the weekend I decided to finally order some stuff they had a 30% off sale. I only ordered a few pigments but they're also famous for their lip tars so that would be my next order.

Here's the OCC website in case anyone is interested. Their customer service was excellent.

http://www.occmakeup.com/

Here's a picture of everything I ordered: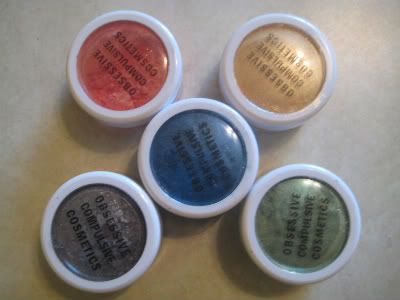 Clockwise from left: Glisten (pale peach), Auric (gold), Atmosphere (mint green), Ironic (gunmetal gray) and Heroic (cobalt blue) in the centre

I'm so far very please with my purchase. The texture of the pigments is a bit like mineral pigments as in they're very finely milled. However, in pigmentation they're compare to MAC's pigments. They apply smooth and are quite long lasting. You only need a little bit of pigment on your brush to get intense pigmentation. There's 2.5 g of products in each jar so one should last you a lifetime.

Here are some comparison swatches. These are applied dry and without base on my NW30 arm. Some of my MAC colours started to look pale compared to the OCC stuff!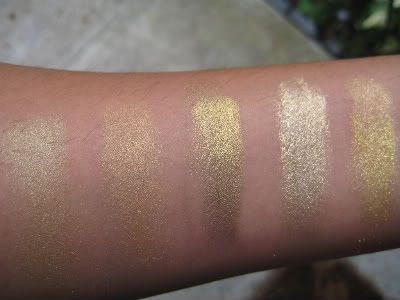 From left to right: Gorgeous Gold, Goldmine, Gold ( PRO metal), OCC Auric, Golden Lemon
Auric looks a bit like Cash Flow p/p. I only thought of it now but they two would make an amazing pair!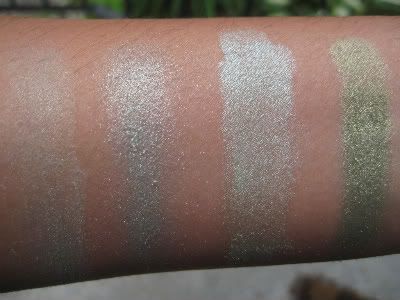 From left to right: Warm Chill, Lusterleaf, OCC Atmosphere, Golden Lemon
It looks like Atmosphere is the super pigmented version of Warm Chill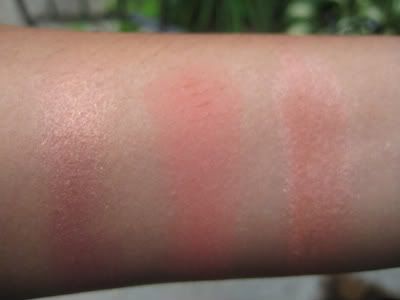 From left to right: Expensive Pink, MUFE #5, OCC Glisten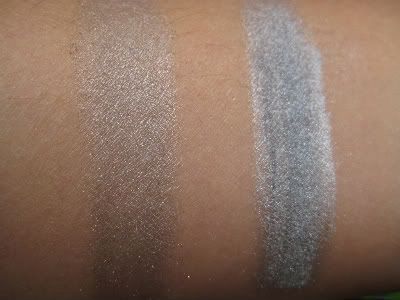 From left to right: Sweet Sienna, OCC Ironic
They're nothing alike, I just didn't have any gunmetal shade to compare.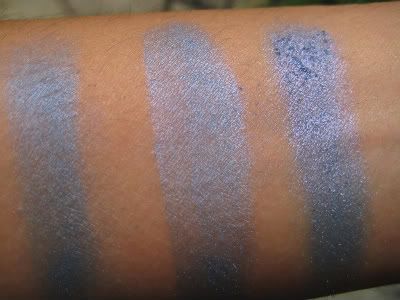 From left to right: Freshwater, OCC Heroic, Cornflower

Hope you enjoyed these swatches. OCC gets two thumbs up from me!