So here we are with part 2 of my makeup collection, which also happens to be my favourite part, Eye products! This will include all my eyeshadows, pigments, eyeliners and bases. Again please let me know if you have any question about any of the products.

Below is a quad I've made of the colours I use frequently as highlight, plus my white eyeshadow: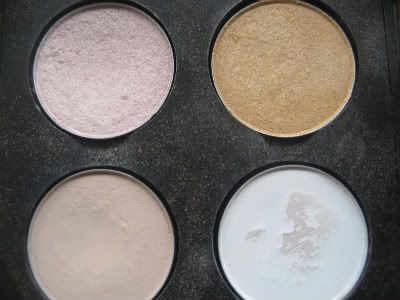 Top row - left to right: Solar White, Creme de Miel
Bottom row - left to right: Blanc Type, Gesso

My blue/teal MAC palette: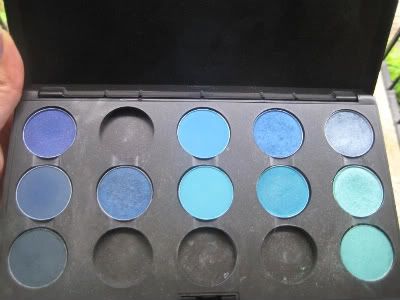 Top row: Cliamte Blue, Clarity, Freshwater, Tilt
Middle row: Prussian, Blue Flame, Jewel Blue, Cool Heat, Aquadisiac
Bottom row: Plumage, Gulf Stream

My green/gold palette: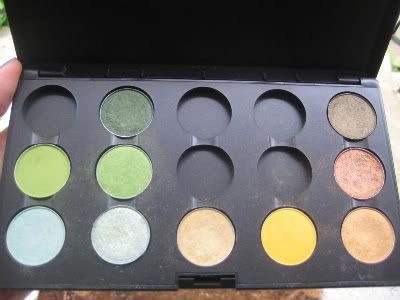 Top row: Humid, Mink n Sable
Middle Row: Lime, Biogreen, Amber Lights
Bottom Row: Warm Chill, lusterleaf, Gorgeous Gold, Bright Sunshine, Goldmine

My purple/gray/pink palette: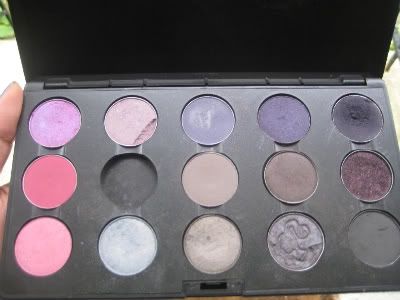 Top row: Stars n Rockets, Illegal Cargo, Posion Pen, Top Hat, Graphology
Middle row: Post Haste, Copperplate, Smut, Beauty Marked
Bottom row: Sunset B, Silverthorn, Smoke n Diamonds, Mothbrown, Print

My "warm" palette: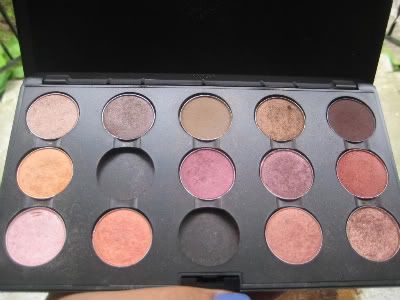 top row: All that Glitters, Satin Taupe, Cork, Bronze, Embark
Middle row: Evening Aura, Cranberry, Star Violet, Coppering
Bottom row: Sweet Lust (I hate this one!), d'Bohemia, Expensive Pink, Mythology

My MUFE palette and a single eyeshadow (I could take this out of it's pot, and ended up denting the surface, I'm sad)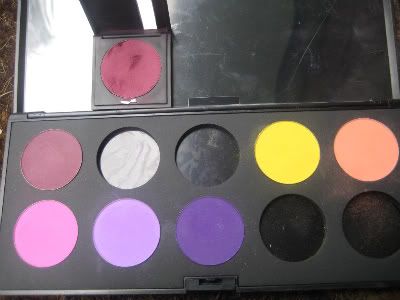 Top row: No.39, No.2, No.5 and single eyeshadow No. 49
Bottom row: No.26, No.9, No.92

My random single colours: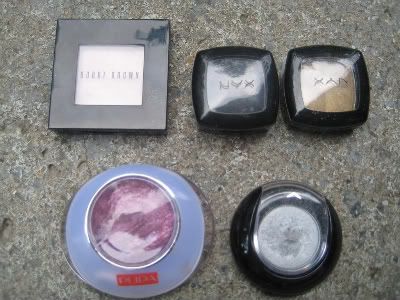 Top row: BB Pink Bronze, NYX Black, NYX Antique Gold
Bottom row: Pupa purple, Lancome Silver

My mix palettes:


Too Faced, Lancome, Elizabeth Arden and an old Dior one

Pigments 1: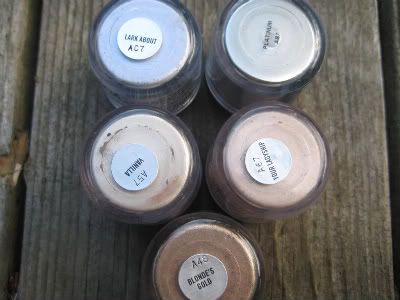 Lark About, Platinum, Vanilla, Your Ladyship, Blonde's Gold

Pigments 2: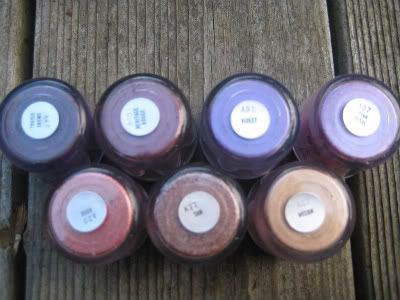 Top row: Smoke Signal, Heritage Rouge, Violet, Pink Pearl
Bottom row: Rose, Tan, Melon

Pigments 3: Greens and Blue


Top row: Emerald Green, Chartreuse, Pastoral, half jar of Blue Brown
Bottom row: Deep Blue Green, Mutiny, Clear Sky Blue

Half Jar and big sample (1 tbs) pigments: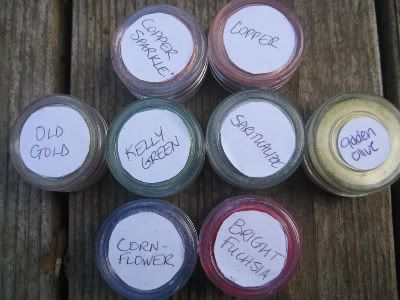 names on jars, not pictured: Blue Brown

Lot of sample pigments and glitters, too lazy to name all, but the big jar is my half siz of Blue Brown.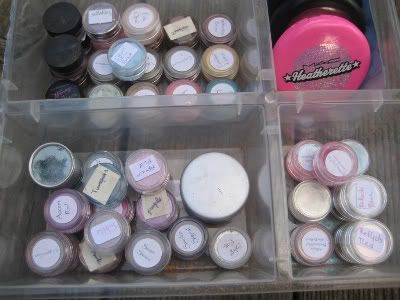 MAC paints, paintpots and one chromaline: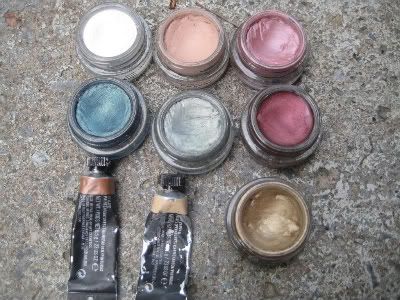 Tope row: Pure White chromaline, Painterly, Fresco Rose
Middle row: Delft, Greenstroke, Artifact
Bottom row: Stilife paint, Bare Canvas paint, Cashflow

Mix bases: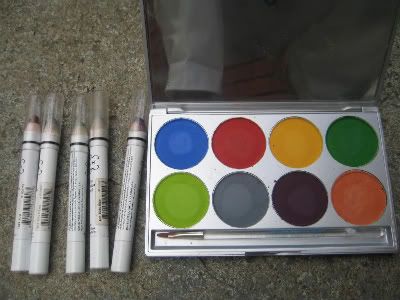 NYX Jumbo Pencils in Purple, Pots n Pans, Horse Radish, Sky Blue, Rust and my Mehron Aqua Tropical palette

Gel eyeliners: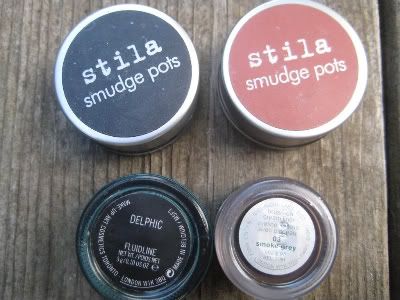 Stila Black and Bronze Smudge Pots, MAC Delphic f/l and Clinic Smokey Gray gel liner

Pencil liners: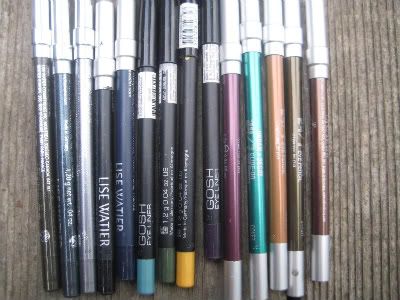 I don't want to name these ones. But I already have in this post and included swatches as well

woohooo, done with this part! Lip products coming up this weekend!