November 12, 2012

Hi guys! I think this may be the first time I've actually featured a drugstore haul. I do actually use some drugstore products that have been my long term faves; but I just always pick up my items when I'm grocery shopping so I forget to do a separate haul.

These items were picked up last week and so far I love all :) Here's a quick overview: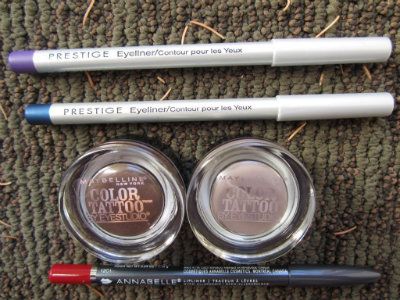 I finally grabbed a couple of the Maybelline Color Tattoo everyone raves about and I have to admit I'm also part of the "love" group. I purchased Tough as Taupe as I do use taupes very often and also Rich as Mahogany, a subtle bronze shade which I believe is limited edition.

Annabelle is my go-to for amazing selection of lip liners. They also apply relatively soft and last a long time. I use Flame and Fuchsia a lot and just added Cherry lip liner to my collection. This would go great with blue toned red lipsticks.

I haven't bought anything Prestige since high school I believe but remember really enjoying their black kohl liner. They had a sale at my local Pharmaplus so I picked up a couple of their kohl liners, Rhapsody (navy blue) and Magnetic (purple). I've already used the blue on my lower lashline and have been pleased with it.

Here are some quick swatches for you guys: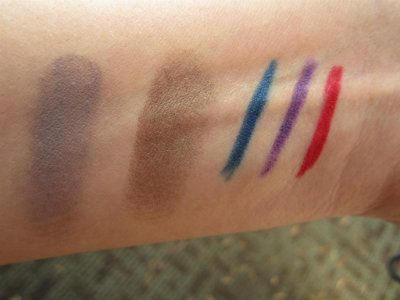 What are some of your favourite drugstore products?