July 28, 2010

I got a call from my Chanel counter that their Fall 2010 collection so I was there as soon as I got out of work. Now, if you read my post on fall collections I was lusting after here, you know how excited I was for this. I've become a total Chanel fiend and really enjoy their products. I will be doing swatches and review of these at a later date, thought I just show you my pretties for now :D

I picked up three items for now, look at them sitting in their pretty boxes: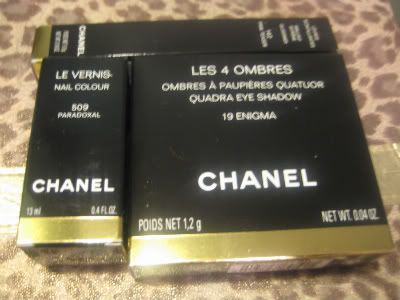 and everything nicely laid out: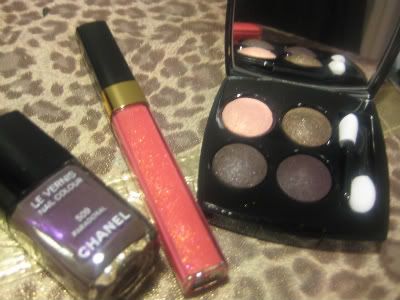 Enigma quad - this gorgeous quad is my first Chanel quad. All colours are very pigmented and a must have for a smokey eye lover like me.

Paradoxal nail polish - this is a complex taupe shade that has some purple shimmer in it. I cannot wear to rock this on my nails.

Pink Teaser glossimer - I'm a huge glossimer fan and this is perhaps the most gorgeous shade of glossimer I've even seen. Beautiful pink with gold shimmer, yummy!

Have you picked anything from Chanel recently? What are some of your Chanel fave products?