August 24, 2009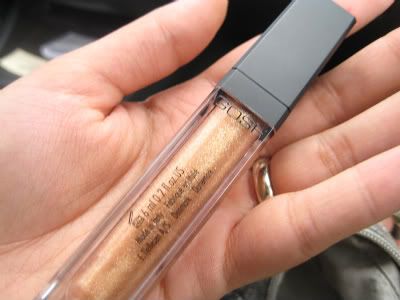 I was intrigued by Gosh's new line of lipgloss called Light 'n Shine so I finally picked one up. Gosh is a drugstore brand that can be found at Shoppers Drug Mart here in Canada but I find they have some very nice products in their line, including their Velvet Touch Liners and now these Light 'n Shine stuff. The Light 'n Shine lipgloss swatch like MAC's Dazzleglass except these are much less thick. They are quite sheer on the lips but add amazing dimensions when worn on top of a lipstick exactly like the dazzleglasses. I got the tan shade which looks great on top of my nude lipsticks. The lipgloss has a built-in mirror on the side and a light which lights up when you open it. I thought this was quite a neat idea.

These glosses cost $14 CAD so the price is right, not quite as cheap as other drugstore brands but better than Dazzleglasses. The only con is that these don't last on your lips as long as MAC's dazzelglasses. Though Dazzleglasses wear off too with the exception of glitters which can be annoying to some.

Give these a try next time you're at Shoppers Drug Mart. I think you'll be pleasntly surprised!

Here's a swatch on my hand on on the lips.