January 21, 2010

I did some damage to my wallet yesterday at my freestanding MAC store and Nars counter. In fact I didn't even know that we had a Nars counter at the Bay, I'm pretty sure it's new. I don't have to go to Sephora or Murale for my Nars fix anymore, yey! Here's the total damage: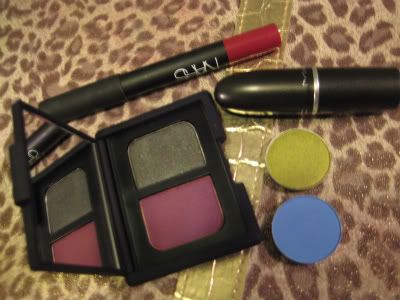 Note: all swatches on NW25/30 skin with no base.

I went to MAC first to check out the new bright eyeshadows that have been added to the perm line. I ended up with Lucky Green and Winkle. This shouldn't be any surprise as you all know I love my blues and greens.

Lucky Green is yellow tones green with amazing buttery texture. I have similar shades in my stash but no exact dupe.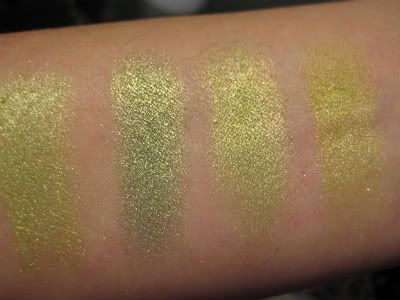 Left to right: Chartreuse p/m (Pro), Golden Olive p/m, Lucky Green e/s, Rated R e/s (LE)

Winkle is a periwinkle shade with satin texture. It's very pigmented and swatches sorta matte with a slight sheen. I have no dupes for this in my stash but I swatched it next to two blues I had thought were similar (but are not).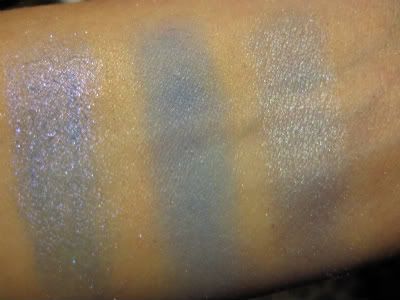 Left to right: Cornflower p/m, Winkle e/s, Tilt e/s

I also fulfilled a long time lemming of mine and bought Myth lipstick. Myth is super pigmented and ultra nude. It's about the same colour as my face (my face is a couple of shade lighter than my arms) so it's very dramatic. It looks gorgeous layered with Underage or Glamour For All. As you can tell, my previous nudes are nothing like Myth, they all have pink undertones that Myth lacks.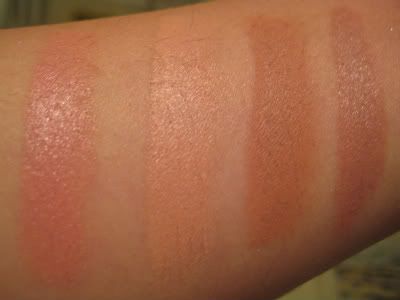 Left to right: YSL Rouge Volupte No.1, Myth, Honeylove, Blankety

From the Nars counter, I bought Eurydice duo and Red Dragon matte velvet pencil.

Eurydice is a gorgeous duo of burgundy purple and dark shimmering gray. I love how the two colours work together. This is my first Nars duo btw.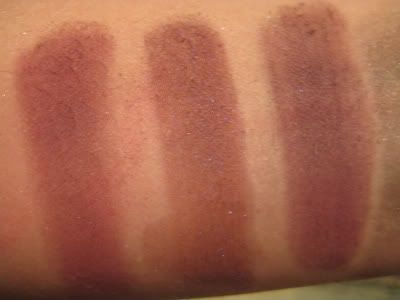 Left to right: MUFE #39, Eurydice, Smoke Signals p/m (LE)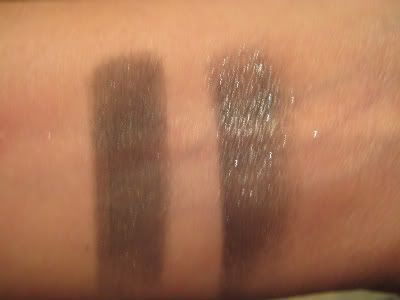 Left to right: Eurydice, Cinderfella MES

Dragon Girl is a blue based pin-up red. As some of you know I'm a big fan of red lips and can never pass up on nice opaque lipsticks. The closest dupe I have to Dragon Girl is MAC's Ruby Woo, though Dragon Girl is softer and easier to apply, no need for a lip liner.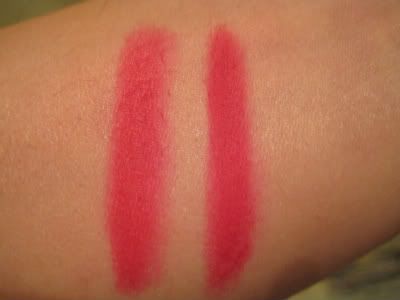 Left to right: Ruby Woo, Dragon Girl

Hope you find the swatches helpful. I now need to go on a no-buy for a while!