August 28, 2009

I finally did some hauling at Lush. There is a Lush store in St-Laurent Mall here in Ottawa that I used to pass by every freakin day when I was in high school. I had wanted to try their stuff ever since then and believe it or not it's been put off until now! I was meeting a friend downtown yesterday and this time I passed by the Lush store downtown and decided it was time to loose my Lush virginity, lol!

I was actually pretty overwhelmed by all the yummy stuff in there but ended up getting only what I had come for. Keeping in mind I've already done extensive research as to what I wanted. The friend I went with is a Lush junkie and she had tones of recommendation. So I got H'Suan Wen Hu Hair Treatment as well as Lemony Flutter Cuticle Cream. I also spent some time going through the soap bars and so they ended up giving me samples of Sultana of Soap, Honey I've Washed the Kids, Chox Away, Figs and Leaves soap.

Here's picture of everything together: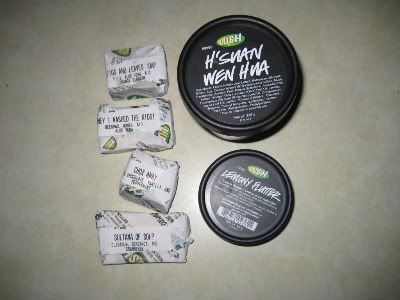 For all Lush users out there, what are some of your favourite products?