January 13, 2010

Feb 4th: This giveaway is now closed. I will be picking a winner today and announce it on the blog tomorrow. Thank you all for entering and good luck.

As promised earlier, I present you with my second blog giveaway! Once again, I wanted to thank you guys for taking time to check out Beautyspot. I started this blog about a year ago, hoping to document my daily makeup looks. As some of you know, I'm a mechanical engineer and hence work in a very male dominated field. I love and enjoy my career but this blog has given me an avenue to maintain my girlie side and be away from the boys a few minutes each day, hehe! I'm happy that you have found the blog helpful and hopefully, inspirational as well.

Now, I get off my soap box. Here's a picture of the prize package: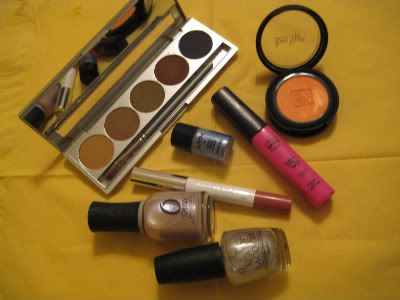 Note: These products have all been purchased by me and I've been accumulating them for this exact purpose.

The package includes:

- NYX Barbie Pink Mega Shine Lipgloss
- NYX Ocean Blue pigment
- Ben Nye Tangerine Lumiere eyeshadow
- Kryolan Cairo Matte Eyeshadow Palette
- Sonia Kashuk Velvet Matte Lip Crayon
- Orly Nail Polish in Cut the Cake
- OPI Nail Polish in Birthday Babe

To enter, you need to be a follower of this blog and leave me a comment stating "How did you find Beautyspot?" to get one entry.

If you would like to increase your chances of winning, you can post a link to this contest on your blog. By doing so you will get an extra entry.

Please remember to leave your email address in the comments so I have a way of contacting you. Also, if you have linked to this giveaway in your blog, please include the link in the comments.

This giveaway is open to all readers (international included) subject to your country's custom laws. The winner will be chosen at random on February 4th and announced on February 5th (which happens to be my birthday, lol!)

Good luck everyone! And thank you all again!