March 6, 2010

Hey guys! I had decent amount of sleep last night and woke up to a beautiful sunny day so I'm definitely in an excellent mood. I thought I do a review of Annabelle's Spring products. The two products I will be reviewing are an eyeshadow quad and a an eyeshadow trio.

I received this beautiful custom made quad with the following colours: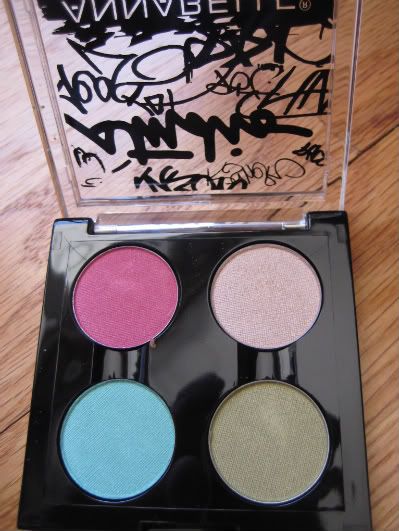 Helium - frosty golden beige
Nymphet - light green teal
Pinked - medium fuchsia pink
Toxic Garden - light olive green

All the colours have a slight sheen to them but are not overly frosty. They apply smoothly and you pretty much get the same colour you see in the pan. I love the colour selection a lot; spring to me means lotsa colours but they should be lighter (pastels). So this quad pretty much hit it on the nail. My favourites were Toxic Garden (coz it's about the same colour as my eyes) and Nymphet (coz I love teals). See below for the swatches, keep in mind that as always, you will get more intense colours by applying them over a base. This is true for drugstore and high end eyeshadows.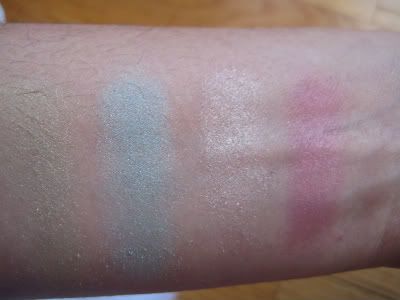 Left to right: Toxic Garden, Nymphet, Heluim, Pinked

I also received a lovely eyeshadow trio in shade Blue Hue.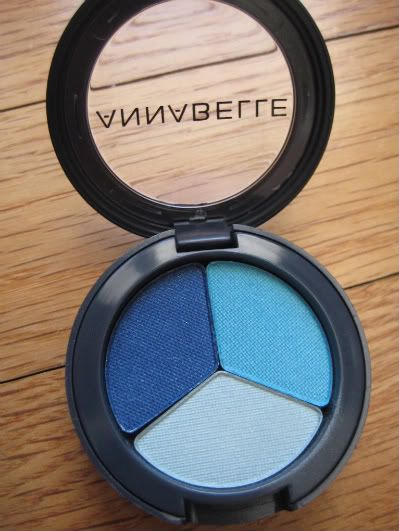 I looooove this trio! The three colours are gorgeous together; there's a mint green, a teal and a dark blue. All three apply super pigmented and have a slight sheen. This trio has got to be my fave Annabelle product ever as well as one of the most beautiful eyeshadow combination I've seen a company produce. Two thumbs up and I highly recommend this trio. Especially if you're on a budget, it's a great alternative to some of the more pricey brand while it still delivers. Look out for an FOTD coming up using Blue Hue this week.

Here are some swatches on my arm. Again no base on NW25 arm: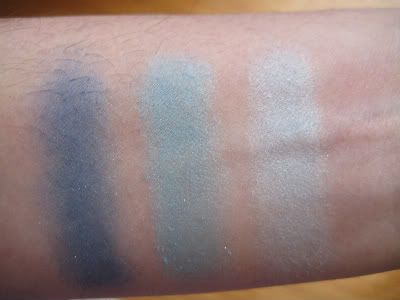 Both of these products are available as of now (first week of March) in drugstores across Canada.

Have you guys tried any of these two products? What were your thoughts?