March 13, 2010

I have done a series of swatches for my red and hot pink lipsticks before but I thought as we are now pretty much in spring season I should also swatch my peach, coral and pinky coral lipsticks. I must admit most of my coral theme collection is recently accumulated as up to a few month ago, I was a red, pink or nude lipsticks kinda girl.

I see in most magazines that coral is a big trend this season. Most of these colours are universally flattering so hopefully this post will help you guys for the upcoming season.

Up first, swatches on my NW25 arm. Please note that these pictures were taken in the bathroom by adjusting the setting as it's a cloudy day. The colours are slightly brighter in real life.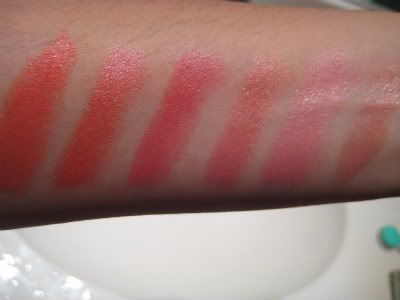 Left to right: MAC Vegas Volt, Chanel Rouge Coco Teheran, Nars Niagara, MAC Fresh Salmon, MAC Lollipop Lovin and MAC Marquise D'

And now on to the lip swatches. I have semi pigmented fuchsia toned lips.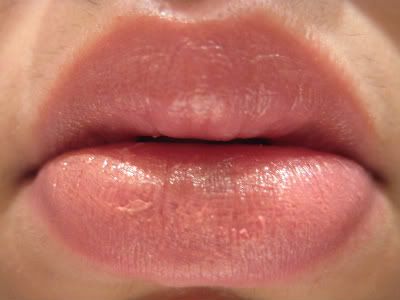 Marquise D' (LE) - I would describe this colour as a nude peach. It's a lustre finish which puts it on the sheerer and glossier side. This lipstick applies beautifully and I think as far as peaches go, Marquise D' is universally flattering. I wear this lipstick on its own most of the time, it doesn't really need a lipgloss but it also looks divine topped with Live n Dye or any other light peach lipgloss.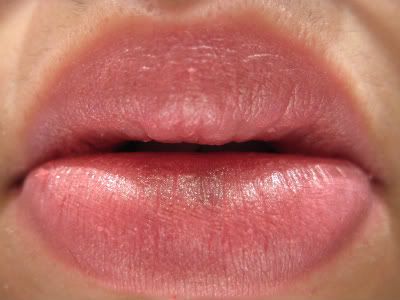 Lollipop Lovin' (LE) - this lipstick is one of the most highly sought after LE shades that MAC has released. It's light coral with tiny green reflects which make this shade very unique. The formula is glaze so you need some patience to get the colour to show as desired. I usually just do 3-4 swipes. I like to wear this one on its own to get the tiny green flecks to show when the sun ray hit them. Lollipop Lovin' was relased twice but each time as LE; I've got the Heatherette version. This lipstick is one of my all time faves.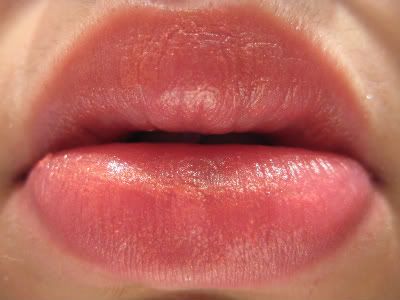 Fresh Salmon (LE) - Fresh Salmon was released last month with the Spring Trend collection and it's a sheer pinky coral shade. I would say it's sheer but very buildable. A couple of swipes gives me the most gorgeous light coral pout. Very spring like and very pretty. Get your hands on this one while you still can!



Nars Niagara - Niagara is part of Nars core line but it was repromoted with their spring collection. Niagara has a satiny finish and is a coral with slight red undertones. I find that though the Nars sheer lipsticks apply like MAC's lustres, they last longer on my lips and Niagara is no exception. I've been loving Niagara paired with green eyeshadows. It's the perfect spring combo!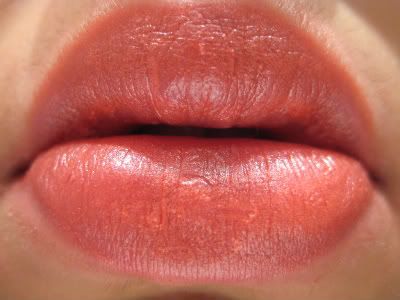 Chanel Rouge Coco in Teheran (LE) - I already reviewed and swatched this lipsticks with my Coco Rouge haul. However, this shade deserves more praise. Teheran has noticeable pink undertones and hence the most flattering coral on me. It's one of those lipsticks you want to just throw on a spring day and be done with your makeup. I actually receive the most compliment when I wear Teheran. Another one of those lipsticks that are best on their own and without a lipgloss on top.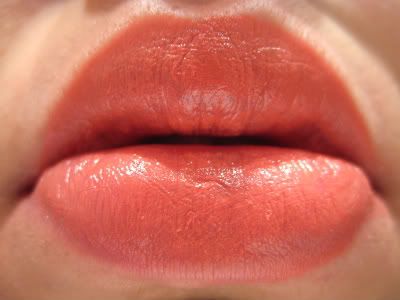 Vegas Volt - I saved the boldest for last! Vegas Volt is permanent at MAC counters/stores and is a creamy and bold coral shade. Vegas Volt has more orange than the rest of my coral collection and hence I find it a little bit more tricky to pull off. I wear it mostly late spring and summer when I have a fully established tan but I also like to rock it in the spring topped with Lollipop Lovin' l/s or a light pink lipgloss. As with all MAC amplified cream finish lipsticks, Vegas Volt applies like a dream and is highly pigmented. Definitely have a look at this perm line gem!

Hope this review and the swatches were helpful to you guys. What is your fave spring lipstick?